Here at Rebalan, we are proponents of whole plant products, which offer the full spectrum of benefits of each cannabis strain. However, we know that millions of people still cannot use products with THC due to state or employment restrictions. Fortunately, CBD by itself is showing promise as a valuable solution to a lot of health issues.
As a result of the 2018 Farm Bill, CBD derived from hemp is now legal in the United States. CBD-infused products that use 100% CBD isolate will never get you high, no matter what the dose, and there are also no signs of CBD being addictive. CBD is currently being researched for just about everything, from aches and pains to PTSD. Figuring out what dose is best can be confusing. We are in the early years of research, and a lot of studies are using extremely high doses to treat serious conditions.
Current Research
As mentioned, a lot of CBD research has been using very high doses. We're talking anywhere up to 900 mg a day. Considering we define a low dose for THC as 5 mg or less, this is an extreme difference. Most of these studies, though, have been examining high doses of CBD as treatments for major conditions, like seizures and serious anxiety disorders. One study intentionally examined low doses in those with PTSD, since it isn't cost effective to be taking hundreds of milligrams a day, and found that lower doses can still be effective (participants took anywhere from 1-100 mg per day, depending on weight and symptom severity). This gives us hope that CBD could be a cost effective option for a lot of health issues. Here are the biggest takeaways from current research.
Be Patient
First off, you can't decide CBD doesn't work for you after one or two attempts. Whether you're looking for pain or anxiety relief, it might take time. One study suggests that effects are felt best about a week into taking CBD daily. The Arthritis Foundation suggests taking 5-10 mg twice daily to start. If, after a week, you aren't experiencing the effects you're looking for, slowly increase each dose by about 5 mg every week or so. The higher dose you're taking, obviously the more expensive this will get, and you eventually will have to re-evaluate if CBD works for you.
It Doesn't Work for Everyone
In a lot of these studies, most people found pain and anxiety relief when trying CBD. That means even in extremely high doses, some people did not.  If you're finding yourself continually increasing your dose because you're not getting the results you want, at some point you'll hit a ceiling where it's no longer cost-effective to be using it. Even the Arthritis Foundation recommends switching to a low dose product that also has THC if you're not getting results from CBD-only at doses of 50-100 mg. Make sure you're using a quality product to know for sure that CBD isn't for you.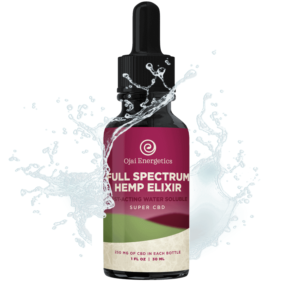 Use Trusted Products
CBD can be taken through vaping, tinctures, capsules, and edibles. Using any of these products is only going to be worthwhile if what you're actually taking is CBD and the dosage is properly labeled. Although CBD derived from hemp is currently legal, there are zero regulations regarding labeling and testing. This is why we recommend only buying from a licensed dispensary, because they are required to sell only items that have met state standards. It's recommended to only use products that have been tested by an independent laboratory, so you can verify the content of the product you're taking. You can verify these test results by looking at the product manufacturer's Certificate of Analysis (CoA).
Experiment Safely
Fortunately, experimenting with CBD is pretty low risk, because even in higher doses, only some people experienced adverse effects like fatigue and impaired concentration. Since CBD doesn't produce intoxicating effects, people tend to take a more casual approach to using it. CBD on its own can cause drowsiness, so definitely don't experiment with it when you need to be alert, like at work, taking care of kids, or before driving. The first time you try CBD, you should do so in a controlled environment and maintain a journal. As you experiment with dosage, keep note of how much time has elapsed and how you feel.
By starting low and slow, you will be able to monitor your progress and titrate up or down depending on your desired effect. There will be trial and error that will depend on your particular body chemistry as well.