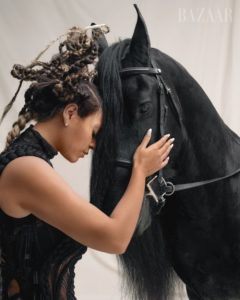 In the recent issue of Harper's Bazaar, Beyoncé graced the cover with an insightful feature about her 'Evolution.' One of the things she shared was that she has been using CBD for inflammation and sleep, and has even begun building a hemp farm.
"During quarantine, I went from overindulgences to creating positive rituals drawing from past generations and putting my own spin on things. I discovered CBD on my last tour, and I've experienced its benefits for soreness and inflammation. It helped with my restless nights and the agitation that comes from not being able to fall asleep. I found healing properties in honey that benefit me and my children. And now I'm building a hemp and a honey farm."

-Beyoncé Knowles-Carter, Harper's Bazaar
CBD is a cannabinoid (compound) that comes from cannabis plants. While CBD doesn't cause psychoactive effects, its association with marijuana has left a mark. There is still some stigma and confusion surrounding its use, even after CBD derived from hemp became federally legal in the U.S. in 2019. While CBD research has a long way to go, early findings suggest it could be a great homeopathic treatment option for anxiety and sleep issues, and potentially even for seizures, skin issues, arthritis, IBS, and more.
Having a cultural icon like Beyoncé share openly about her use of CBD and the benefits that she has experienced could be a turning point for so many people who are unfamiliar with or unsure about using CBD. Here at Rebalan, we are so glad she has found a natural way to help with inflammation and sleep issues, and we hope to see the stigmatization around CBD-use continue to decline.
We want people to be aware and informed of the different ways they can aid their stress, sleep and other issues, especially options that are natural and affordable. If you want to learn more about how to get started with CBD, here are some pointers on what products you can use and how dosage works.