A recent study of breast cancer patients in the United States explored cannabis use during treatment in order to better understand factors like timing of for use, product types and informational sources. The anonymous online survey found fairly widespread use among patients, and highlights some areas for growth regarding education and communication with healthcare providers.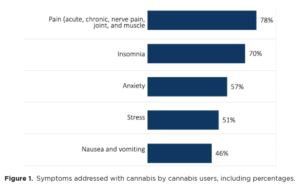 Almost half of the patients who participated in the survey reported using cannabis during treatment to ease side effects, which can include pain, insomnia, anxiety, stress and nausea. Research is still slowly unfolding to verify the effectiveness and risks of cannabis after decades of research restrictions, although positive anecdotal experiences of its use for health issues continue to spread. Even public figures, like Olivia Newton-John during her cancer journey, have openly shared about cannabis use for symptom relief.
Here at Rebalan, we strongly advocate for research-based education around cannabis use, including dosage, methods of administration, and product safety.  A large percentage of patients who use cannabis from this study, however, reported their friends and family as their source for cannabis information. One example of this was a lack of knowledge about how to source safe, tested products. As we have shared, only purchasing from licensed dispensaries guarantees that products have been tested and have accurate labeling.
In addition to keeping up with the current research, users should be open about their use with medical providers. One troubling finding of this study was that less than half of patients who used cannabis had discussed it with their physician. According to the report, using cannabis during active treatment could have adverse effects. Patients should keep their care team in the loop about any substance use, including low doses of cannabis.
If you are interested in learning more about low dose cannabis use, you can check out our beginner's guide and explore other resources on our website. For those going through any medical treatment, be sure to check with your physician before trying any form of cannabis, and keep your care team updated on any changes.